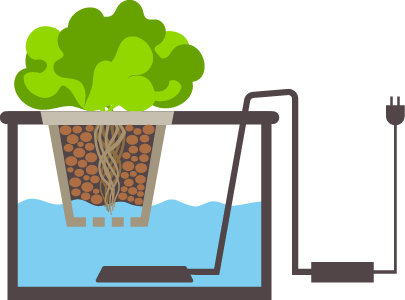 Growing Systems
Growing Systems
Growing by using hydroponics is of course now becoming a very popular hobby. So, whether it be farming or the person that just wants to grow small plants at home using a simple hydroponics system and a small grow light. My interest is the later. Although I have a large garden then my main interest is in growing in my "Alton" timber glasshouse. Of course using hydroponics wherever possible.
I do admit that as an older person then hydroponics equipment is affordable. However once purchased the equipment can be used over and over again. Online hydroponics shops are now making equipment more affordable and within reach of many of our large towns and cities. Here in West Yorkshire "Hydrostore" keep an excellent range of hydroponic equipment an will shortly be extending their range to include normal garden tools and equipment! of course all included online.
Hydroponics are soil-less
Of course hydroponic systems are a water based growing system and is of course soil-less. Giving your plants water and nutrients that is controlled. So, my concern was always based on the fact that having a young family meant that I had to take them on holidays. Of course having to leave my garden and greenhouse with a reliable water source! Of course we all have friends and relations with good intentions! All willing to look after your beloved plants. However, most times have ended in disaster. Non gardeners dont understand your precious plants requirements. For instance many will just give the plants one good watering the day before your return from holiday. Thinking that they have done you a big favour. However we all know different. This problem was remedied by the addition to my greenhouse of an hydroponics water system. As long as you make sure that the reservoir is full to the brim then you can go on your holidays knowing that you plants will be watered when they require the water. So, for some strange reason then it is always hot and sunny when I go away on holiday!
Grow more plants
So the old method that I used to grow my tomatoes and peppers was in grow bags. I must confess that I still do like this method of growing. However it is the constant watering and feeding that can make it hard work. Miss a day on a hot day can cause the grower a huge problem. So, by using hydroponics then this problem will be eliminated! Accordingly all you must do is make sure that the reservoir tank is filled regularly.
Plants grown in hydroponic conditions do not need to spread their root systems to find and take in nutrients. Because of this we are able to fit the plants at closer spaces. So in my own particular case then I can fit in another four tomato or pepper plants.
https://hydroponicsinfo.co.uk/wp-content/uploads/2021/01/Asset-14.png
300
405
Eric Roberts
Eric Roberts
2021-01-04 09:48:20
2021-03-07 12:19:12
Growing Systems